When it comes to making healthy food choices, snacks can be an area that can completely get us off track. Have you ever just plowed through a bag of chips and wondered what the heck just happened? Something that helps me is a strategy that I learned from the book "The Atomic Habit" by James Clear: "Make what you want to do easy." This principal or strategy can be used in all situations, but I want to explore how to apply it to snacking specifically. When we take the time to plan what we are going to eat for meals and snacks, we have freedom because we no longer have to worry or decide about what there is to do. One of my go-to snacks is this Healthy Trail Mix!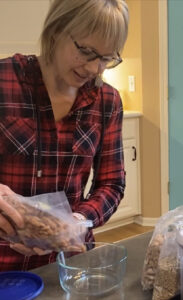 Is all Trail Mix healthy?
Just like most things, the answer is… it's complicated, there is not just a cut and dry answer!! Not all trail mixes are created equal, so be careful about picking up a store-bought trail mix and thinking that just because it says trail mix that it is healthy. Some trail mixes have loads of sugars and have not so healthy oils added that it takes away from nutritious parts of what a trail mix can offer. When we make our own trail mix it gives us the power of what is going into our body.
Why is trail mix a healthy option?
When you chose ingredients for the trail mix that are nutrient dense, it can be a great option! Nuts contain healthy, unsaturated fats, and other heart healthy benefits. Seeds and nuts both have vitamins and minerals that help our bodies defend against oxidative stress. Subbing a healthy trail mix instead of a pastry or chips is a great way to fuel your body with the nutrients it needs and enjoy what you are eating at the same time!!
Build your own trail mix & what ingredients to use
Now we are getting to the fun part!!!
Follow this formula:
Equal parts nuts: example 1/2 cup of walnuts and 1/2 cup of cashews
Half that for seeds: example 1/4 cup sunflower seeds
Hearty sprinkle of a "fun" ingredient: example dark chocolate chips
Ingredient options:
1.Nuts- For the healthiest option, get raw nuts, look at the back of the ingredients and make sure they are not cooked or roasted in hydrogenated or other unhealthy oils. If you want to roast them, it is super easy to do at home! They contain healthy fats, high in antioxidants (which can help lower oxidative cell damage) and can help lower cholesterol and triglycerides.
Almonds

good source of Vitamin B2 (riboflavin), niacin, folate, potassium and other minerals.
highest of all nuts in fiber content- 4 grams per ounce.
can help moderate insulin spikes which helps regulate blood sugar and supports heart health.

Cashews

good source of copper, magnesium, and manganese- nutrients important in energy production, brain health, immunity and bone health.
high in fiber- 1 gram per ounce.

Walnuts

high levels of amino acid L-argenine help control hypertension.
omega 3 fatty acids can protect against inflammatory conditions like rheumatoid arthritis, eczema, and psoriasis.
contains the highest of antioxidants of tree nuts.

Pecans

high in fiber- 3 grams per ounce.
contains Vitamin A, and Vitamin E which supports the immune system.
a good source in Zinc which helps support immune function, wound healing, and brain function.

Pistachios

high in luetin and zeaxanthin which both promote eye health.
contains fewer calories and more protein than many other types of nuts.
they have a low glycemic index which might promote lower blood sugar levels.
If using in a trail mix- you would want to get the kind that are not in a shell.
2.Seeds– there are so many great options for adding seeds to your trail mix! Overall seeds add fiber to help with your digestive health & slow the absorption of sugar. They have antioxidants and protein as well as other micronutrients.
Pumpkin seeds

can help prevent iron deficiency anemia.
high in plant-based protein.
They have 1 gram of fiber per ounce.

Sunflower seeds

great source of Vitamin E, a vitamin that is known for it's antioxidant properties.
can help with lowering inflammation.
has 3 grams of fiber per ounce
3. Fun– this is the category you can get creative with! But use moderation here, and know that you can pick fun ingredients that will still support making this a healthy snack!
Dark chocolate chips

has antioxidants
could help with cognitive brain function
can help reduce stress

Dried fruit

stick to no sugar added- look at the label to check that it only contains the fruit.
full of antioxidants and phytonutrients.
some options- raisins, mango, cranberries, banana chips
I would love to hear your favorite way to make a healthy trail mix or other snack option!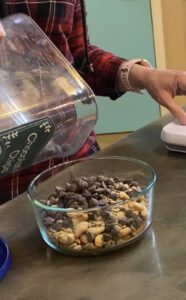 How I can help!
With Holistic Health and Wellness Coaching:
Did you know that I have been a nurse for over 15 years and am also a holistic wellness coach?
If you ready for a real change in your life that allows you to heal and find real wellness- physically, emotionally and spiritually. Then wellness coaching is for you!!
FREE wellness worksheets:
Just for signing up for my newsletter, you automatically get emailed my printable guide to wellness as well as getting access to many other worksheets that you can print off and use right away!!
Join my monthly book club:
What it is:
Each month we read a new book- varied genre of books
I'll post 6 discussion questions in the Facebook group at the end of the month. This is your time to interact with other book lovers!
Optional book club guide monthly emailed to you
Check out my Bookshop link with all of my past book club picks
Join my Declutter Group:
What it is:
declutter 1 space (closet, drawer, shelf, room) each day
get inspiration and ideas from others
accountability
optional monthly decluttering check list emailed to you
Follow me on Social Media:
See what wellness looks like for me in my everyday life & you get more pictures of Lilo!!
Be well,
Faith
***Some of the links in my posts contain affiliate links and I will receive a small commission if you make a purchase after clicking on my link. I pinky promise I will always give my honest opinion of any product and would never recommend something if I did not use and love it!!
****My posts are not to be taken as medical advice. Anything I talk about regarding fitness and nutrition, or any other lifestyle changes comes from my own personal experience or my individual client's experiences, please consult with your personal medical provider or professional for your specific needs.
---
---