Have you ever read a book that you immediately fell in love with. Memoirs of an Imaginary Friend was like that for me. This story is brilliantly told from the perspective of Budo an imaginary friend of a boy named Max. As Budo shares all of the ins and outs of being an imaginary friend, I got pulled into the heartwarming story of Budo and Max. Max is considered to be "on the spectrum" and struggles with social situations and life in general. Budo helps protect Max from bullies and other awkward situations that come up. But there becomes a real danger in Max's life and Budo is figuring out how to help him as things become scarier. Find my book club questions for "Memoirs of an Imaginary Friend" below. And warning, the questions will contain potential spoilers if you have not read the book- you have been warned!!!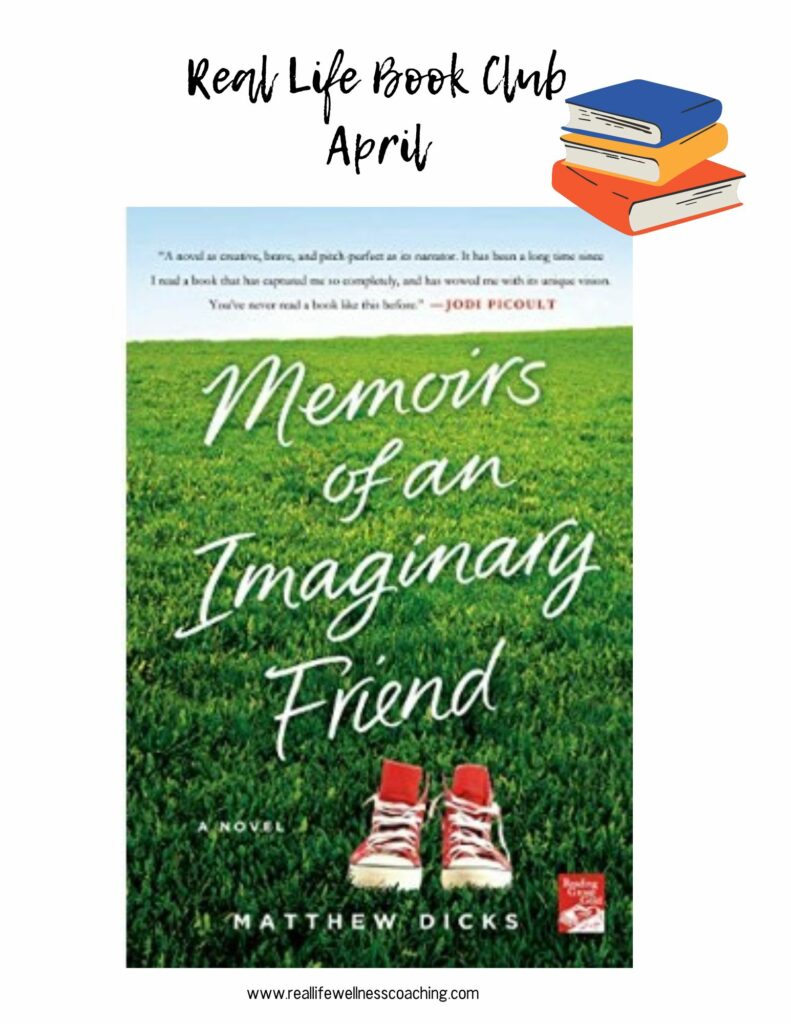 Memoirs of an Imaginary Friend Questions
Do you believe that Budo is imaginary?
How do you think Budo's TV watching impacted his perception on people and things in the outside world?
Max's mom really wants to understand what is going on with him, but his dad seems like he is not interested it knowing. What did you think of this and who did you relate to more?
Did you have an imaginary friend growing up? What did your imaginary friend look like and act like? Did he or she resemble any of the imaginary friends in the book?
Which imaginary friend was your favorite? Who would you pick for your imaginary friend if you could? What traits did you appreciate about them?
What did you think of the ending of the book? Do you feel like it gave the book proper closure? Do you still have questions?
Budo describes Max as the "bravest person in the world" because he has to go out into the world even nobody seems to like him. What did you think of this statement?
What is your opinion of Mrs. Patterson? Is she all villain? What do you think should happen to her?
Who was your favorite teacher when you were a kid and why?
Do you like that the book was told from the perspective of Budo?
If you are looking to add more reading to your life, join my book club!! When you join my book club here is what you get:
Monthly book that is picked by the members of the book club!
Discussion of the book. We meet locally in person, and I post all of the questions in our Facebook group. So, you can participate in whatever way works for you!
Book club kit each month that has the book club questions, drink recipes inspired by the book and a playlist inspired by the book
Newsletter 1-2 times a month with the book club kit, plus announcement of the next months book along with invitation to the monthly discussion
Ready to join? Just go to my Facebook group: Real Life Book Club answer the questions, including your email and then you are in!!!
How I can help!
With Holistic Health and Wellness Coaching:
Did you know that I have been a nurse for over 15 years and am also a holistic wellness coach?
If you ready for a real change in your life that allows you to heal and find real wellness- physically, emotionally and spiritually. Then wellness coaching is for you!!
FREE wellness worksheets:
Just for signing up for my newsletter, you automatically get emailed my printable guide to wellness as well as getting access to many other worksheets that you can print off and use right away!!
Join my monthly book club:
What it is:
Each month we read a new book- varied genre of books
I'll post 6 discussion questions in the Facebook group at the end of the month. This is your time to interact with other book lovers!
Optional book club guide monthly emailed to you
Check out my Bookshop link with all of my past book club picks
Join my Declutter Group:
What it is:
declutter 1 space (closet, drawer, shelf, room) each day
get inspiration and ideas from others
accountability
optional monthly decluttering check list emailed to you
Follow me on Social Media:
See what wellness looks like for me in my everyday life & you get more pictures of Lilo!!
Be well,
Faith
***Some of the links in my posts contain affiliate links and I will receive a small commission if you make a purchase after clicking on my link. I pinky promise I will always give my honest opinion of any product and would never recommend something if I did not use and love it!!
****My posts are not to be taken as medical advice. Anything I talk about regarding fitness and nutrition, or any other lifestyle changes comes from my own personal experience or my individual client's experiences, please consult with your personal medical provider or professional for your specific needs.
---
---