Plants are one of the most important things we can put on our plate (or bowl or glass) and into our bodies. They have powerful nutrients that our bodies need to function, stay healthy, and fuel us properly. What we eat affects us more than most anything else we do. Food is the most powerful intervention that we have. And lucky us- it is one that we have complete control over. Plants: including vegetables, fruits, nuts, seeds and legumes have powerhouses of nutrients, and antioxidants. The only tool you need to start eating healthy is your plate.
It's all about balance! Use your plate and divide it like this:
Proteins 25% (animal and plant based)
Healthy Fats 25% (Oils, avocado, nuts & seeds)
Colorful plants 50% (veggies, fruits, legumes, & whole grain)
If you notice the healthy fat section is still a lot of plants (avocado, nuts, and seeds). So, 75% of our ideal plate is plants. Now the question is how to eat more plant~ Let's get started!
A few things to note that I am AGAINST:
focusing on what NOT to eat
saying any food is off limits
demonizing a certain food or group of foods
Research shows that about 90% of Americans do not get the daily recommended number of vegetables and 85% of Americans do not get the daily recommended number of fruits. I would say plants are a great place to start on focusing on what to add to our plates! But how to do it?
1. Planning ahead
One of the reasons that processed foods have become so common is because they are easy to grab. With a little planning though, veggies, fruits, nuts and seeds can be just as easy. Some of my favorite ways to do this are:
Having fresh fruit out and available like: apples, cuties, and bananas.
Cut up fresh watermelon, and wash berries so they are easy to grab.
Set aside time on the weekend or a day off to cut up cucumber slices, carrots, and celery.
Make a batch of yummy trail mix.
2. Breakfast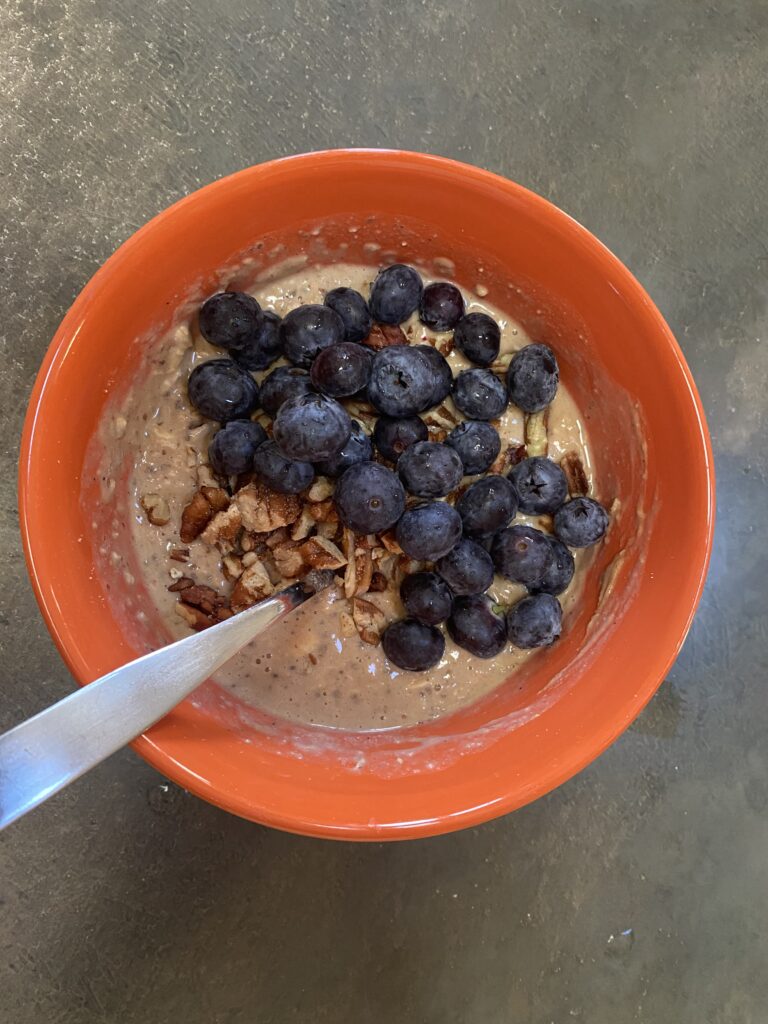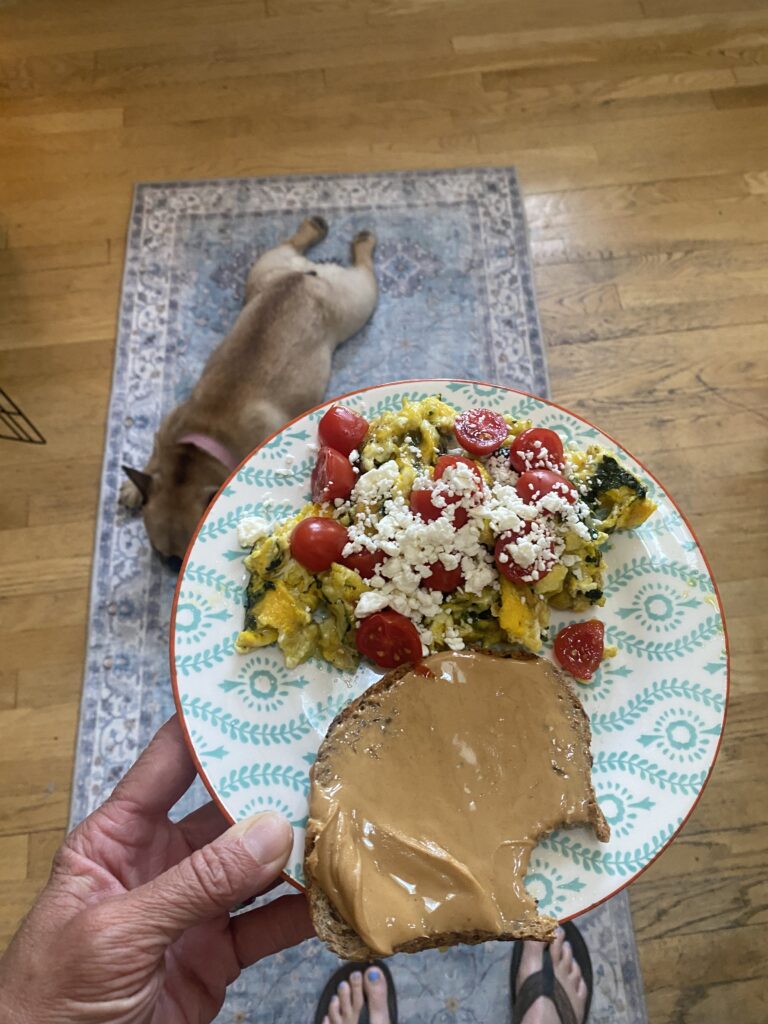 Here are my favorite ways to get more plants at breakfast:
DIY oatmeal- forget the traditional store-bought oatmeal packs (that are loaded with sugar) and make your own! Here is how I make mine!

1/2 cup of oats
1 TBL ground flax seeds
1TBL chia seeds
dash of cinnamon
Add boiling water
Then add
1 scoop of Kachava vanilla protein powder
1 spoonful of peanut butter

Scrambled eggs

spray pan with avocado oil
1/2-1 cup of torn spinach and put in pan
scramble 2-4 eggs
sprinkle with cheese
after they are cooked I add
diced tomatoes
sliced avocado

Protein smoothie

8 ounces of water/milk of choice
1 scoop of Kachava vanilla protein
large handful of spinach
1/2-1 cup fruit (strawberries, blueberries, cherries)
1 spoonful of nut butter
1 TBL ground flax seed
1 TBL chia seed
1/2 avocado
3. Lunch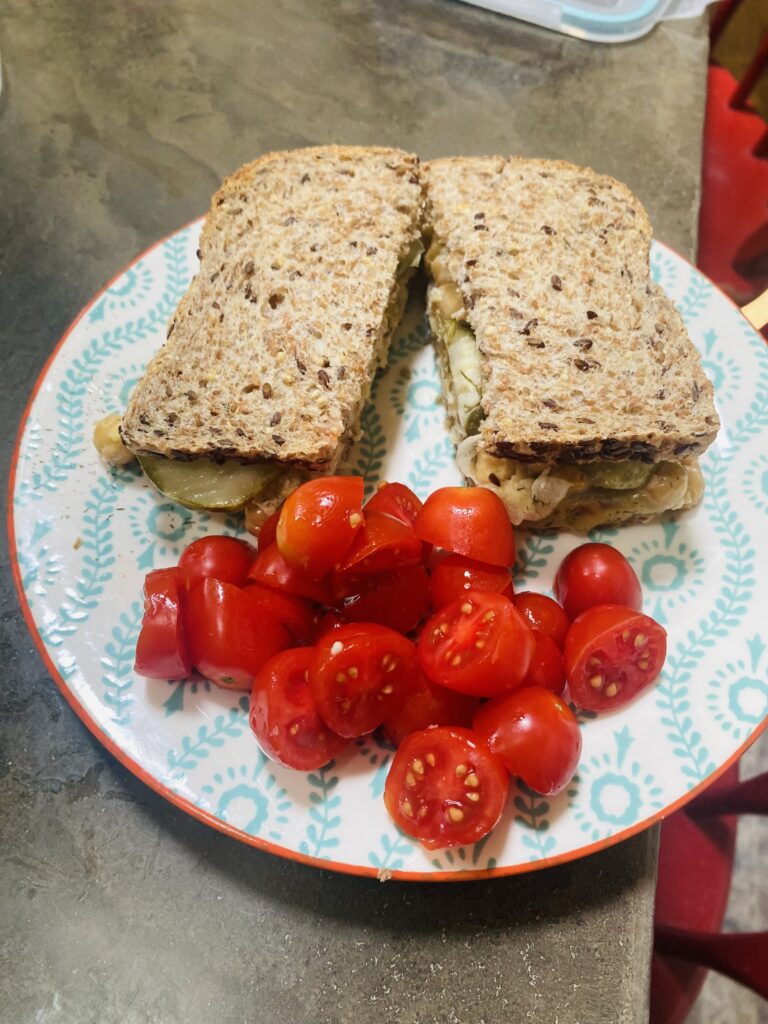 Chickpea salad Sandwich

2 slices of Ezekial thin bread
chickpea salad (1 can of chickpeas- rinsed and drained, mash slightly, add small amount of mayo, garlic salt, pepper)
side of veggies- sliced cucumbers, cherry tomatoes, carrot sticks

Salad

Fill your bowl with greens of your choice
Add veggies

cherry tomatoes, avocado, sliced cucumbers

Add protein of choice

black beans, hard boiled eggs, feta cheese

Add crunch

air-fried chickpeas, chopped walnuts, hemp hearts
4. Dinner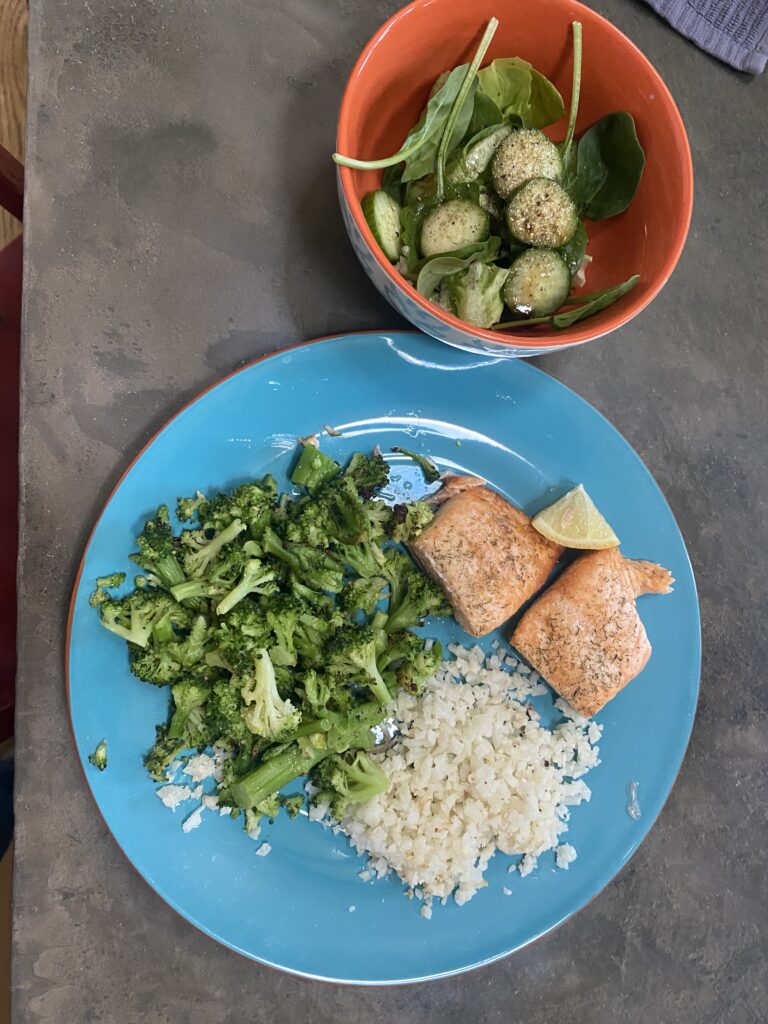 Rice bowls

Add your favorite rice

brown, white, cauliflower

Add your protein
Add veggies

roasted broccoli or cauliflower, stir-fry mix, corn,

Add toppings
Add sauce (optional)

Salmon with veggies

Salmon with avocado oil and dill in the air fryer
Roasted Broccoli or Brussel Sprouts
Side salad
Sweet potato diced with garlic salt and rosemary

Tacos

Protein
Black beans and refried beans (or use meat if you like)
If I use a tortilla I will use corn or Ezekial sprouted tortilla
Add veggies
Lettuce, tomatoes, avocado (made into guac or just sliced)
Cheese
Sour cream OR Cashew Cream

(recipe here by Love and Lemons)
5. Snacks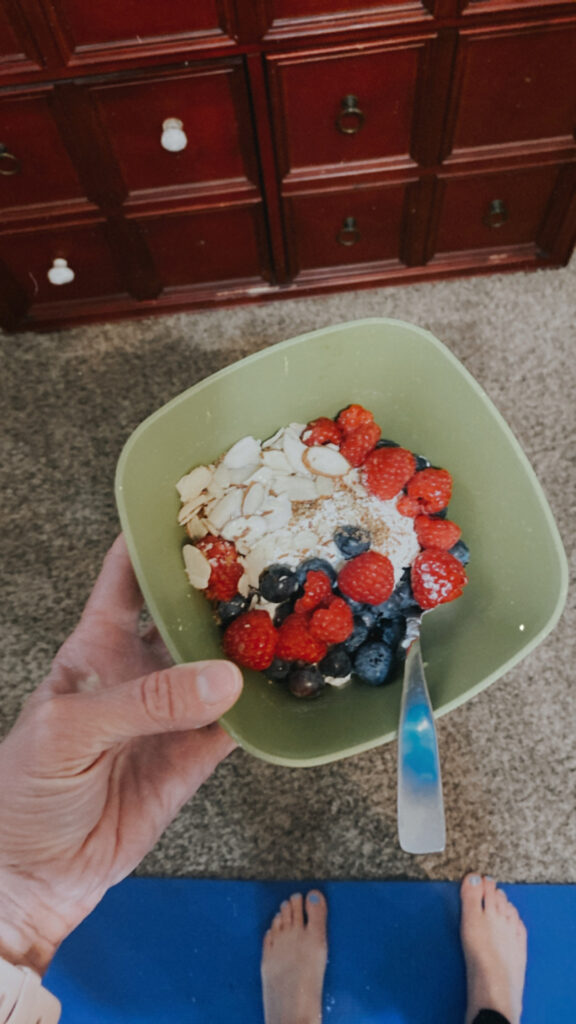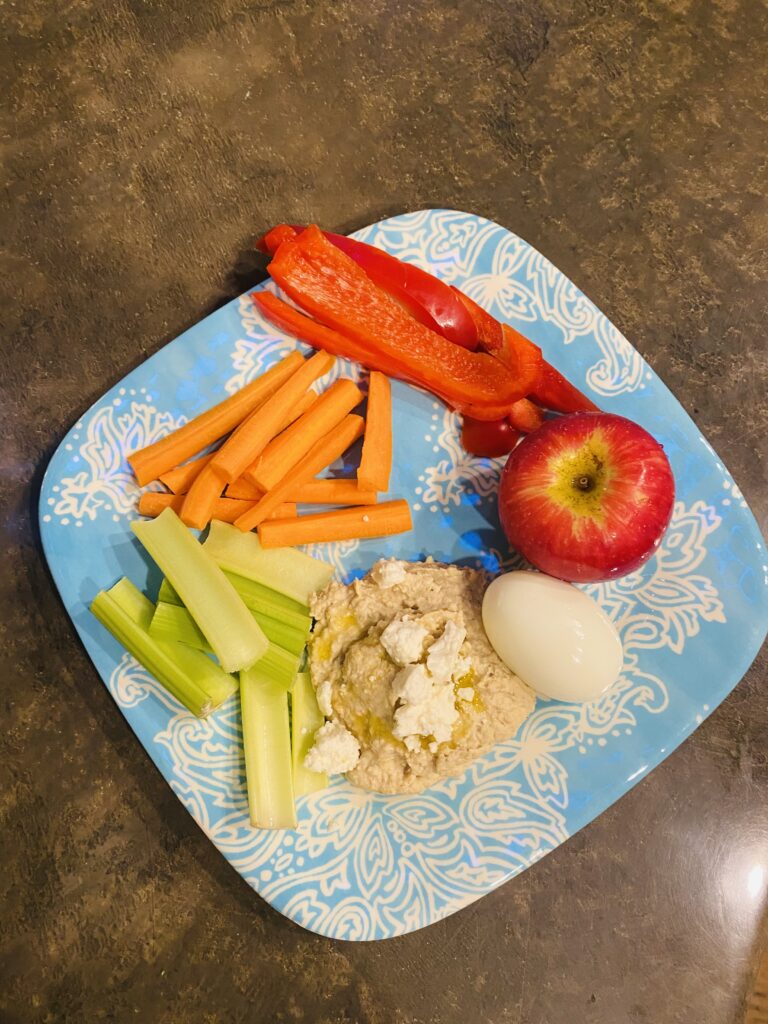 Cottage cheese

(I love this one)

Add

1 TBL of flax seed
Berries
Sliced almonds

Veggie tray

Red bell peppers, carrot sticks
homemade hummus
apple
hard boiled egg

Apple and peanut butter

My favorite type of apple is honey crisp
add a big spoonful & enjoy!
I would love to hear your thoughts on adding more plants to your diet- what was your favorite meal or snack from my post?
How I can help!
With Holistic Health and Wellness Coaching:
Did you know that I have been a nurse for over 15 years and am also a holistic wellness coach?
If you ready for a real change in your life that allows you to heal and find real wellness- physically, emotionally and spiritually. Then wellness coaching is for you!!
FREE wellness worksheets:
Just for signing up for my newsletter, you automatically get emailed my printable guide to wellness as well as getting access to many other worksheets that you can print off and use right away!!
Join my monthly book club:
What it is:
Each month we read a new book- varied genre of books
I'll post 6 discussion questions in the Facebook group at the end of the month. This is your time to interact with other book lovers!
Optional book club guide monthly emailed to you
Check out my Bookshop link with all of my past book club picks
Join my Declutter Group:
What it is:
declutter 1 space (closet, drawer, shelf, room) each day
get inspiration and ideas from others
accountability
optional monthly decluttering check list emailed to you
Follow me on Social Media:
See what wellness looks like for me in my everyday life & you get more pictures of Lilo!!
Be well,
Faith
***Some of the links in my posts contain affiliate links and I will receive a small commission if you make a purchase after clicking on my link. I pinky promise I will always give my honest opinion of any product and would never recommend something if I did not use and love it!!
****My posts are not to be taken as medical advice. Anything I talk about regarding fitness and nutrition, or any other lifestyle changes comes from my own personal experience or my individual client's experiences, please consult with your personal medical provider or professional for your specific needs.
---
---